Top Lift Chair Choices for Older Adults
As individuals grow older, everyday tasks that were once easy to perform may become challenging, including getting up from a seated position. Investing in a power lift chair can be a wise choice for seniors who cherish their independence and aim to maintain their autonomy.
For those with Medicare coverage who are considering purchasing a lift chair recliner, it's crucial to be aware of certain key details. The motorized lift mechanism of the lift chair or seat-lift chair is a Medicare-covered item. If you meet the criteria, Medicare may pay for up to 80% of the approved cost of the seat lift mechanism, provided that you purchase your lift chair from a supplier enrolled with Medicare.
Selecting the appropriate lift chair can be challenging, which is why it's essential to understand what these chairs provide and what factors to consider when buying one. Check out these excellent lift chairs for seniors that include coverage to help you regain your mobility.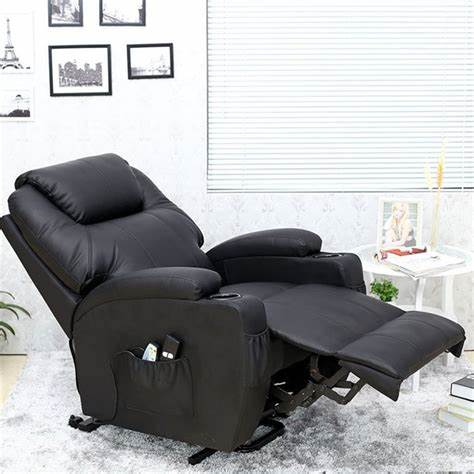 Mcombo Large Power Lift Recliner Chair
Despite its traditional leather recliner appearance, this chair boasts modern features that are hidden beneath the surface. It has a weight capacity of 320 pounds and includes practical USB charging outlets for your smartphone and other devices. Moreover, the generously padded headrest is sizable and offers excellent comfort and support to your head and neck, contributing to the chair's overall plushy appeal.
Features:
• Massage and Heat for Elderly Big and Tall People
• 3 Positions
• 2 Side Pockets
• Cup Holders
• USB Ports
PRICE: $679.90
Ashley Yandel Power Lift Recliner
Crafted with dual-motor construction, the power lift recliner from Ashley Furniture is the epitome of customized comfort. It offers personalized control over the headrest and footrest, enabling you to find the ideal position with a simple press of a button. This upholstered marvel is available in both a stunning saddle brown and black poly-fiber that looks like leather, and includes an attached remote control, high-resiliency foam for a luxurious and comfortable seating experience, and a battery backup for uninterrupted use, even during power outages.
Features:
• The power button can be operated with a single touch (hand control) and features adjustable positions. • Thick poly fiber encases high-resiliency foam cushions. • Side pockets provide additional storage. • The dual motors operate the footrest and back separately, allowing for personalized comfort positioning.
PRICE: $879.99
Elara PR-118 3-Position
The Elara is a sophisticated addition to Golden Technology's latest DeLuna Power Recliner series, showcasing a stylish, seamed back design for a contemporary appearance. The Elara is offered in four new plush fabrics and also durable, washable vinyl. Its full chaise lounge style provides complete comfort from head to toe. The adjustable headrest and easy-to-use, 2-button hand control with an easy-grip make the Elara a user-friendly choice. Additionally, it includes a battery backup to ensure uninterrupted use during a power outage. For those in need of a Golden Technologies lift chair quickly, the DeLuna Series lift chairs are an ideal option.
Features:
• Easy 2-button hand control
• Manually-Adjustable, 3-position headrest
• USB Port
• New luxurious fabrics
PRICE: $939.00
Comforter PR-505 with MaxiComfort
This lift chair is among our top picks for seniors. When aging in place, the best products are those that enable you to maintain your home's current state, thus helping you to save money, time, and effort.
For seniors with impaired dexterity and vision, this chair includes controls that are easy to read and operate. To lift or lower the chair, one only needs to push a button, requiring limited physical ability. This is a particularly beneficial feature for seniors with arthritis. Additionally, the chair's quiet motor operates at a comfortable pace that isn't too fast or too slow.
Features:
• Wall-hugging design
• Comfortable with plenty of padding
• Comfortable footrest
• Easy to use controls
• Comes in three different sizes
PRICE: $1,230.00
Comforter PR-535 with MaxiComfort
The MaxiComfort PR-535 is a lift chair designed to enhance functionality and user comfort. Its latest redesign includes an ultra-padded arm style that adds more value and comfort, extended armrests for improved ease of use when entering or exiting the chair while lifted, an ultra-plush back style for maximum comfort, and a tasteful new seam design.
Golden's patented MaxiComfort Zero-Gravity Positioning Technology offers the ultimate in positioning comfort for lift and recline chairs. It allows you to recline in a position similar to zero gravity developed by NASA, which reduces lower back pain and muscle tension. With MaxiComfort, you can also elevate your hips to relieve lower back pain or recline with your feet above your heart to reduce swelling in your legs, ankles, and feet. Here are some of its features:
• Maxi-Comfort Zero Gravity Positioning
• Programmable hand control
• Full chaise pad seating- no gap between the seat and footrest
PRICE: $1,658.00